Main content starts here, tab to start navigating
Appetizers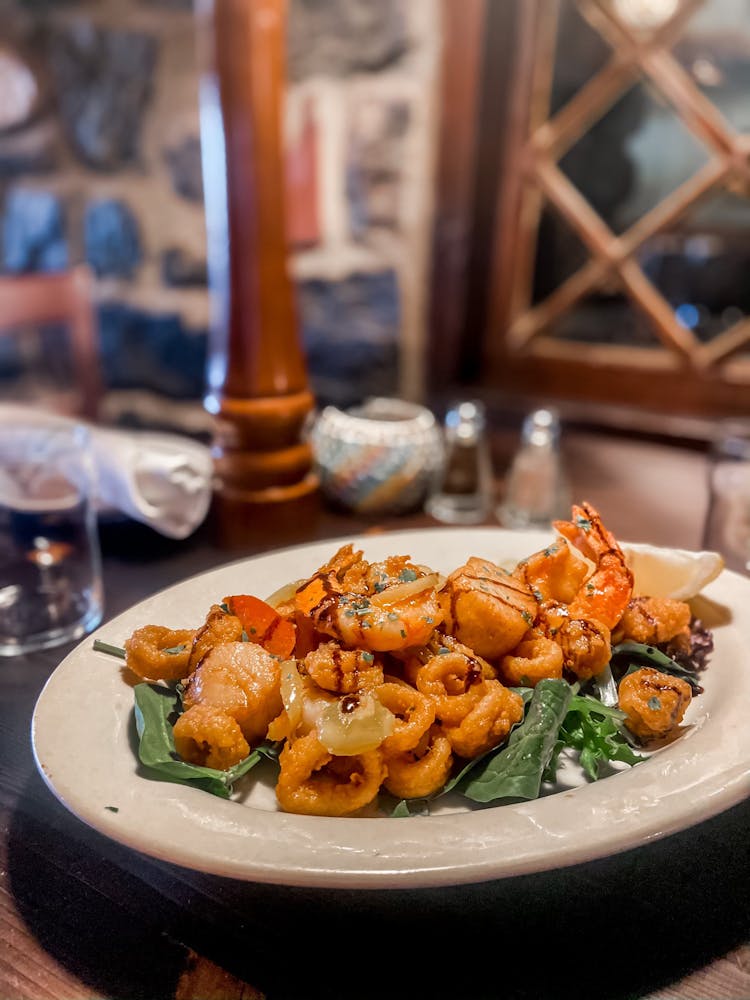 Misto Fritto
Antipasto Board

Chef selection of Italian meats, cheeses, pickled vegetables, olives, jam, and multi-grain crostini

$35.00

Mozzarella in Carrozza

Pan-fried Mozzarella - Marinara - Fresh Basil

$12.00

Calamari Alla Gia

Crispy Calamari - Banana Peppers - Garlic Butter

$15.00

Escargot Pernod

Snails - Garlic Butter - Pernod - Focaccia

$17.00

Arancini Di Riso

Arborio Rice - Mozzarella - Italian Meats - Marinara

$12.00

Polpette Con Ricotta

Handmade Meatballs - Herbed Ricotta - Grilled Focaccia

$12.00
Melanzana Ripieno

Eggplant Rollatini - Herbed Ricotta - San Marzano Tomato Sauce

$12.00

Ravioli Fritti

Cheese Filled Ravioli - Panko - Marinara

$11.00

Casino Alla Gia

Littlenecks - Seasoned Breadcrumbs - Applewood Bacon - Garlic Butter

$13.00

Stuffed Mushrooms

Mushroom Caps - Vegetable Stuffing - Garlic Butter

$13.00

Misto Fritto

Jumbo Shrimp - Jumbo Scallops - Calamari - Cherry Peppers - Garlic Butter

$19.00
Soups and Salads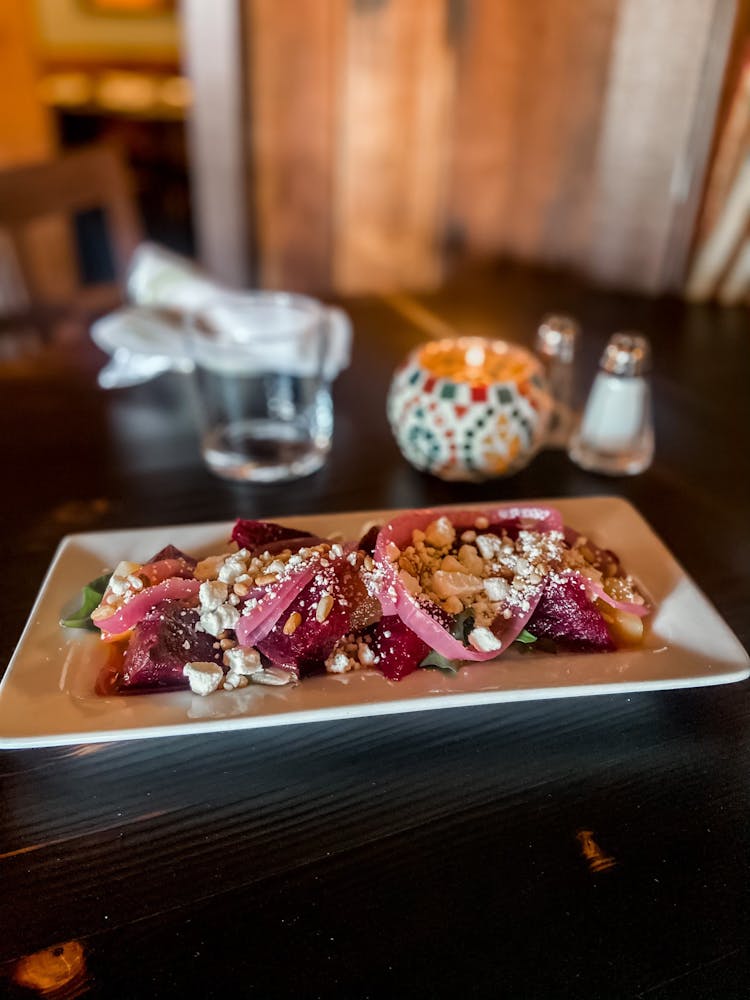 Beet Salad
Zuppe
Pasta Fagioli

Chicken Soup
Insalate
Insalata Cesare

Crisp romaine lettuce tossed in our house Caesar dressing with homemade focaccia croutons and shaved Grana Padano.

$10.00

Wedge Salad

Crisp wedges of iceberg topped with Applewood bacon, blue cheese crumbles, and chunky blue cheese dressing.

$12.00

New England Salad

Organic seasonal mixed greens tossed with dried cranberries, toasted almonds, and candied walnuts in a raspberry walnut vinaigrette finished with crumbled goat cheese.

$13.00
Insalata Di Barbabietole

Roasted beets, toasted pine nuts, crumbled goat cheese, pickled red onions, lemon dijon vinaigrette.

$14.00

Heirloom Caprese

Imported bufala mozzarella served with sliced heirloom tomatoes dressed with aged balsamic and extra virgin olive oil.

$15.00

Burrata

Creamy burrata cheese wrapped in imported prosciutto drizzled with aged balsamic and extra virgin olive oil. Served with multi-grain crostini and blistered tomatoes.

$15.00

Add a Protein

Grilled Chicken $7.00

Grilled Jumbo Shrimp (3) $9.00

8oz. Grilled Ribeye Steak $15.00

6oz. Grilled Salmon Filet $10.00
Pizza (Grilled Flatbreads)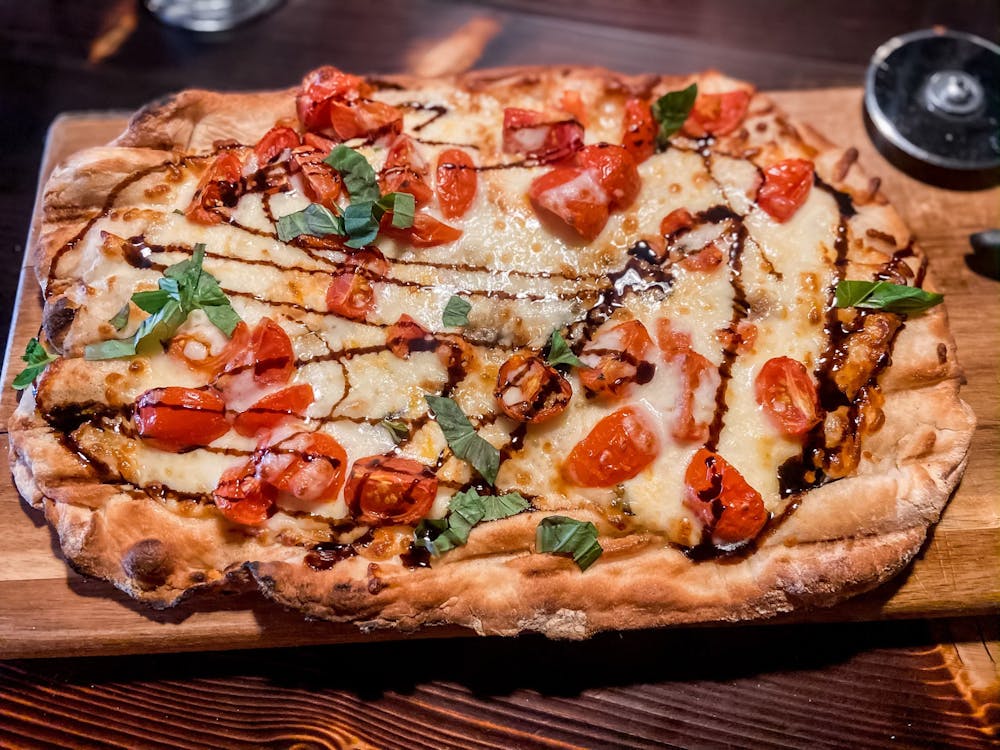 Pizza Caprese
Pizza Pesto

Pesto - Vine Ripened Tomatoes - Mozzarella - Pecorino Romano

$15.00

The Sicilian

Mini Meatballs - Sweet Italian Sausage - Marinara - Herbed Ricotta - Mozzarella

$16.00

Pizza Caprese

Sweet Cherry Tomatoes - Bufala Mozzarella - Extra Virgin Olive Oil - Mozzarella

$15.00
Spaghetti & Meatballs

Spaghetti - Mini Meatballs - San Marzano Tomato Sauce - Mozzarella

$16.00

Pizza Bolognese

Bolognese Blend Meat Sauce - Fontina Cheese - Pecorino Romano

$17.00

Mediterranean Pizza

Spinach - Artichokes - Roasted Peppers - Black Olives - Feta Cheese

$15.00
Panini
All panini come with fresh herbed parmigiana fries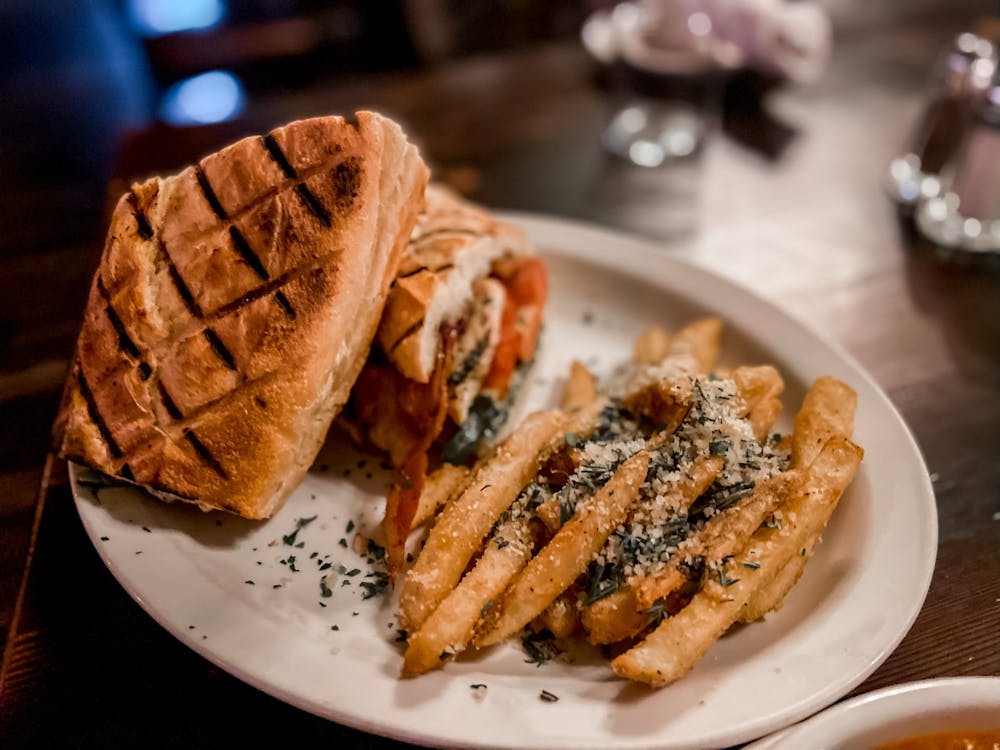 Grilled Chicken Panini
Italian Panini

Imported Prosciutto - Bufala Mozzarella - Vine Ripened Tomatoes - Basil

$15.00

Steak Sandwich

Grilled Ribeye - Caramelized Onions - Mushrooms - Crumbled Bleu Cheese

$17.00

Meatball Panini

Homemade Meatballs - Marinara - Parmigiano - Mozzarella - Herbed Ricotta

$15.00
Chicken Pesto

Grilled Chicken - Pesto Aioli - Applewood Bacon - Fresh Tomatoes - Arugula

$15.00

Chicken Parmigiana

Chicken Cutlet - Marinara - Mozzarella

$15.00

Grilled Veggie

Seasoned Grilled Vegetables - Olive Oil - Balsamic - Feta Cheese

$14.00
Pasta Italian Specialties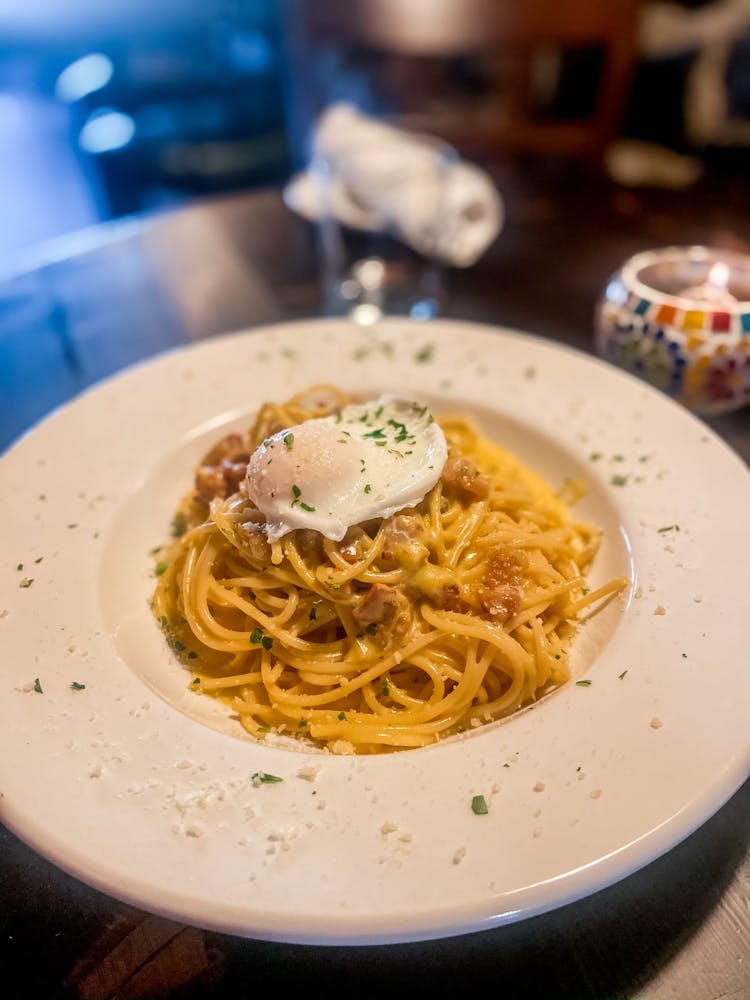 Spaghetti Carbonara
Gnocchi Sorrentina

San Marzano Tomato Sauce - Bufala Mozzarella Parmigiana

$22.00

Gnocchi Pesto

Basil Pesto - Pecorino Romano - Fontina

$22.00

Lasagna

Multi-Layered - Herbed Ricotta Marinara or Bolognese Sauce

$18.00

Penne Alla Vodka

Vodka - Heavy Cream - Pomodoro - Parmigiano

With Shrimp $9.00

With Chicken $7.00

$19.00

Linguine Con Vongole

Fresh Littlenecks - Fresh Cockles - Aglio é Olio

$21.00

Fettuccine Alfredo

Marscopene - Heavy Cream - Parmigiano

With Shrimp $9.00

With Chicken $7.00

19

Cavatappi Bolognese

Egg Ribbon Noodles - Bolognese Meat Sauce Reggiano - Parmigiano

$22.00

Ravioli Di Aragosta Cardinale

Lobster Meat - Ricotta - San Marzano Tomato Sauce Touch of Cream

$26.00
Spaghetti Carbonara

Crisp Pancetta - Egg Cream - Pecorino Romano - Poached Egg

$21.00

Risotto Pescatore

Shrimp - Scallops - Calamari - Littlenecks Lobster Meat - Light Plum Tomato Sauce

With Risotto

With Linguine

$28.00

Spaghetti E Polpette

Homemade Meatballs - Italian Ragu Spaghetti Pasta

$18.00

Gamberoni Alla Scampi

Jumbo Shrimp - Garlic - Olive Oil - White Wine Cappellini

$24.00

Pollo É Cavatelli

Garlic - Olive Oil - Chicken - Cavatelli Pasta Broccoli - Parmigiano

$20.00

Rigatoni Al Forno

Mini Meatballs - Pomodoro Sauce - Herbed Ricotta Mozzarella - Oven Baked

$20.00

Rigatoni Salsiccia

Rigatoni - Brandy - Tomato Cream Sauce - Shredded Sweet Italian Sausage - Parsley

$21.00

Ravioli Basilico

Cheese Stuffed Ravioli - San Marzano Tomato Sauce - Fresh Basil

$16.00
Alla Griglia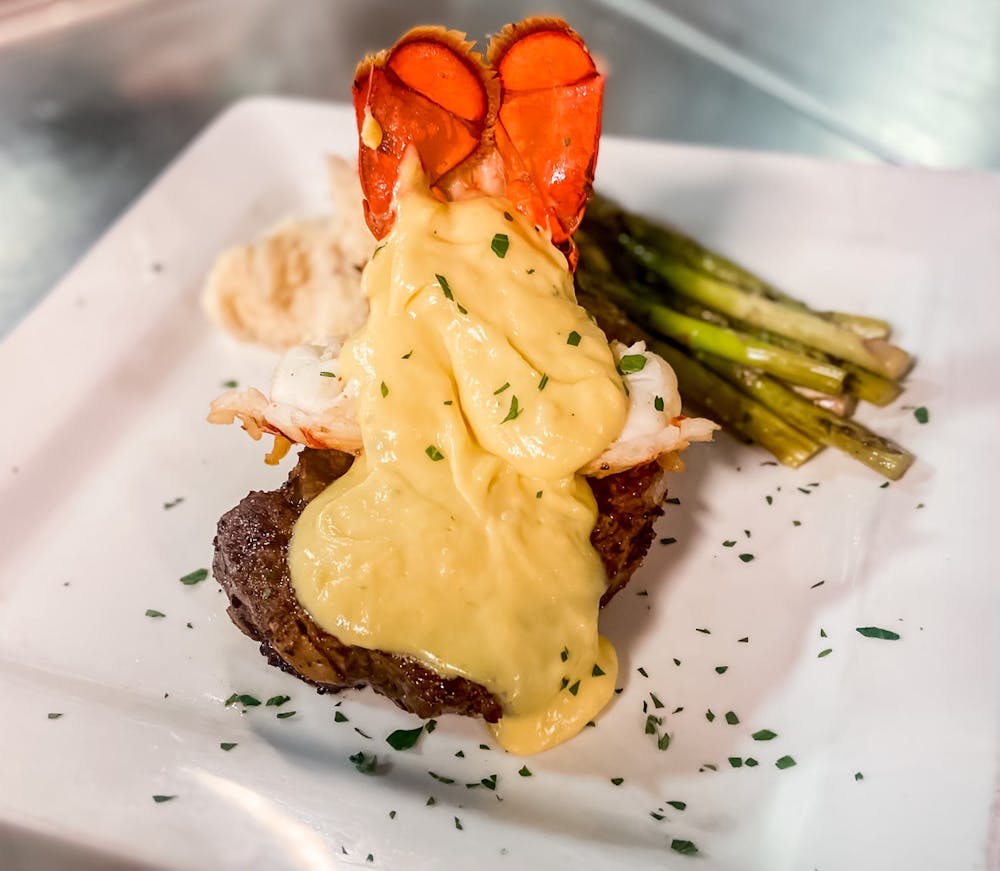 Filet Mignon Oscar Style
Alla Griglia
10 Oz. Filet Mignon

MKT

14 Oz. New York Strip

MKT

16 Oz. Ribeye

MKT

Pork Chops French Cut

White Wine - Demi-glace - Garlic - Rosemary - Vinegar - Peppers

$23.00

14 Oz. Stuffed Veal Chop

Prosciutto - Fontina - White Wine - Demi

MKT

Salmon Steak

$24.00

Assorted Grilled Vegetables

Extra Virgin Olive Oil - Aged Balsamic Glaze

$21.00

Swordfish Steak

Lemon - Butter - Capers - Sauce

$28.00
Steak Sauces
Port Wine

Sweet and tangy Tawny port reduction

Gorgonzola Cream

A blend of crumbled Gorgonzola, cream and fresh herbs

Alla Mamma

Sautéed mushrooms, banana peppers and garlic butter

Au Poivre

Peppercorn encrusted, brandy cream reduction with fresh green peppercorns

Make any grilled item Oscar Style

with a lobster tail, grilled asparagus and hollandaise

$22.00
Entrees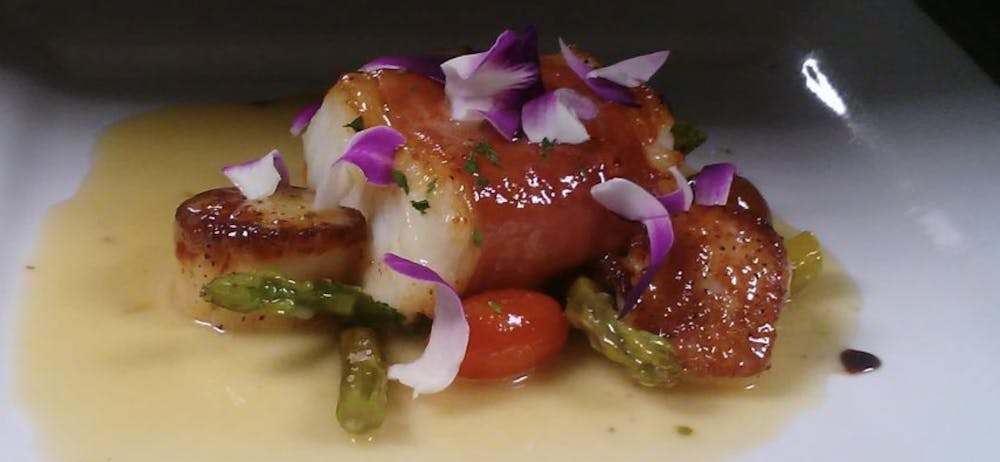 Pesce Bianco Molinari
Gia Speciale

Veal Scallopini - Chicken Medallions - Jumbo Shrimp Sauteed in Cognac Cream Sauce Over Pappardelle Pasta

$32.00

Pollo, Vitello Ò Melanzane Parmigiana

Your choice of chicken, veal, or eggplant parmigiana served with penne pasta.

$22.00

$26.00

$20.00

Pollo Alla Gia

Boneless chicken medallions egg-battered and sautéed with roasted red peppers, artichoke hearts and domestic mushrooms and topped with mozzarella cheese in a white wine demi sauce.

$22.00

Pollo Ripieno

Chicken breast stuffed with our homemade Italian sausage and risotto stuffing, finished in a Madeira wine sauce with domestic mushrooms.

$22.00

Pollo Fiorentina

Chicken breast stuffed with spinach and ricotta cheese, finished in a sherry wine sauce.

$22.00

Vitello Saltimbocca

Veal cutlet breaded and layered with prosciutto and mozzarella, topped with sauteed mushrooms in a marsala cream sauce.

$28.00
Misto Di Pesce

Broiled stuffed haddock, jumbo shrimp, and jumbo sea scallops topped with white wine, lemon juice and garlic butter.

$28.00

Salmone Primavera

Salmon filet sautéed with fresh vegetables, diced tomatoes, capers, and spinach in a lemon butter white wine sauce.

$24.00

Pesce e Gamberoni Francese

Fresh haddock and jumbo shrimp egg battered and served Francese style, lemon, butter and white wine sauce.

$28.00

INVOLTINI DI POLLO ALLA SALTIMBOCCA

Chicken breast stuffed with prosciutto, fontina, mozzarella, mushrooms, and roasted red peppers. Breaded in ritz cracker and panko breadcrumbs, topped with a marsala cream sauce.

$23.00

PESCE BIANCO MOLINARI

Fresh Haddock wrapped in parma prosciutto, pan sautéed in a Sambuca Beur-Blanc served with jumbo scallops over a bed of sautéed spinach and radicchio.

$28.00

PRANZO ITALIANO

Italian specialty platter, chicken parmigiana, meatballs, Italian sausage, stuffed eggplant, toasted ravioli, penne pasta.

$25.00
Children's Menu
Spaghetti and Meatballs

$10.00

Chicken Fingers and Fries

$9.00

Grilled Cheese and Fries

$7.00

Cheese Pizza

$10.00

Penne Alfredo

$10.00
Dessert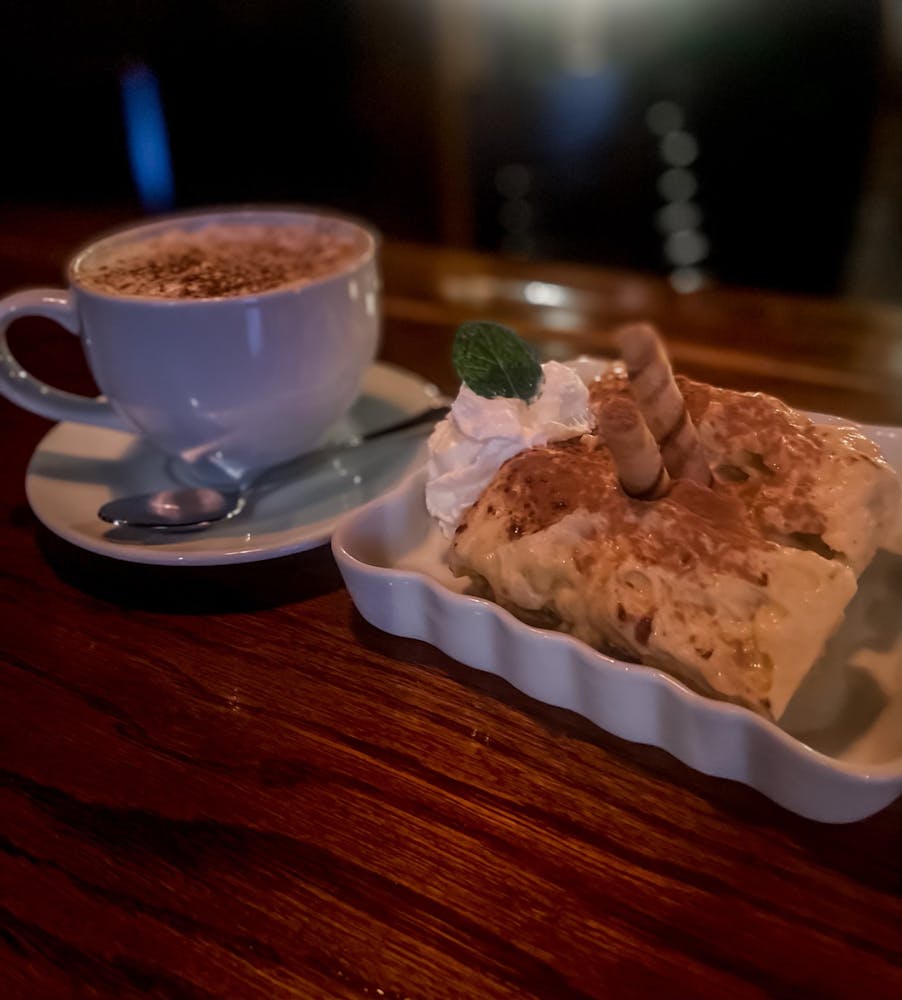 Tiramisu and Cappuccino
Chocolate Lava Cake with Vanilla Bean Gelato

Crème Brûlée

Grapenut Pudding with Whipped Cream

(homemade)

Cannoli

(homemade)
New York Style Cheesesake w/ Strawberries

Tiramisu

Gia's secret recipe

Chocolate Layer Cake

Cherries Jubilee w/ Vanilla bean Gelato
Drink Specials
St. Germain Spritzer

Bombay Sapphire Gin, St. Germain and lemon juice, topped with prosecco

Creamsicle Margarita

1800 Silver Tequila, fresh squeezed orange juice, Cointreau, fresh squeezed lime juice, vanilla bean simple syrup

Cucumber Mojito

Cucumber and mint muddled with simple syrup, Bacardi Rum, splash of soda water

Mixed Berry Sangria

House white sangria mixed with fresh berries and strawberry nectar

Blackberry Bourbon Smash

Blackberries muddled with orange bitters and simple syrup. Bulleit Bourbon, splash of soda water

Strawberry Vodka Martini

Smirnoff Strawberry Rose Vodka infused with fresh strawberry puree, fresh lime juice and simple syrup
Wine
"...A bottle of red, a bottle of white, it all depends upon your appetite. I'll meet you anytime you want, in our Italian restaurant..."
"Scenes from an Italian Restaurant" - 1977, Billy Joel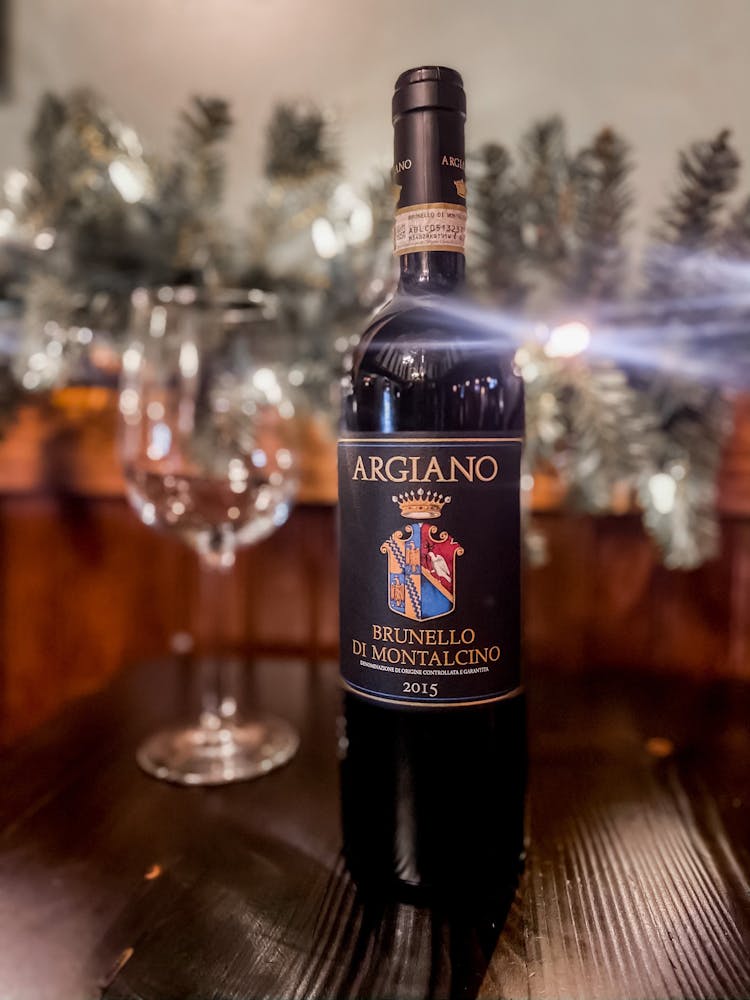 White Wine
House Wines

CK Mondavi - Chardonnay - Pinot Grigio - White Zinfandel

Dipinti, Vigneti delle Dolomiti Pinot Grigio

2017, Pinot Grigio, Trentino-Alto Adige, Italy

Glass

Bottle $41.00

Kellerei Terlan - Cantina Terlano, Südtirol-Alto Adige Pinot Grigio

2017, Pinot Grigio, Trentino-Alto Adige, Italy

Bottle $47.00

Castello del Poggio, Provincia di Pavia Moscato

NV, Moscato, Veneto, Italy

Glass

Bottle $33.00

Hess Select, Chardonnay

2016, Chardonnay, California, United States

Glass

Bottle $34.00

Francis Ford Coppola Winery, Monterey County Chardonnay Diamond Collection

2016, Chardonnay, California, United States

Glass

Bottle $36.00

Kendall Jackson, Chardonnay

2016, Chardonnay, California, United States

Glass

Bottle $36.00

Joseph Carr, Carneros Chardonnay

2016, Chardonnay, California, United States

Glass

Bottle $42.00

Roku, Riesling Estate Grown Monterey

2017, Riesling, California, United States

Glass

Bottle $34.00

The Crossings, Sauvignon Blanc

2017, Sauvignon Blanc, Marlborough, New Zealand

Glass

Bottle $33.00

Loveblock, Loveblock Sauvignon Blanc

2017, Sauvignon Blanc, Marlborough, New Zealand

Glass

Bottle $38.00

Zonin, Prosecco Cuvée 1821

NV, Glera, Veneto, Italy

Bottle $10.00

Pasqua "11 Minute" Rosé

Glass

Bottle $34.00
Red Wine
House Wines

CK Mondavi - Merlot - Cabernet

Zonin, Winemaker's Collection Chianti

Sangiovese, Tuscany, Italy

Glass

Bottle $30.00

Castello di Albola, Chianti Classico

2015, Sangiovese, Tuscany, Italy

Glass

Bottle $41.00

Zonin, Winemaker's Collection Montepulciano d'Abruzzo

Montepulciano, Abruzzo, Italy

Glass

Bottle $30.00

Donna Laura, Sangiovese di Toscana Ali

2016, Sangiovese, Tuscany, Italy

Glass

Bottle $38.00

Pasqua, Romeo & Juliet Passione Sentimento Rosso

2015, Merlot, Veneto, Italy

Glass

Bottle $41.00

Pasqua, Amarone della Valpolicella

2012, Corvina, Veneto, Italy

Bottle $76.00

Argiano, Brunello di Montalcino

2013, Sangiovese, Tuscany, Italy

Bottle $92.00

Renato Ratti, Barolo Marcenasco

2014, Nebbiolo, Piedmont, Italy

Bottle $91.00

Josh Cellars, Craftsman's Collection Cabernet Sauvignon

2015, Cabernet Sauvignon, California, United States

Glass

Bottle $38.00

Hess Select, North Coast Cabernet Sauvignon

2015, Cabernet Sauvignon, California, United States

Glass

Bottle $40.00

Josh Cellars, Merlot

Merlot, California, United States

Glass

Bottle $38.00

Francis Ford Coppola Winery, Diamond Merlot

Glass

Bottle $41.00

Francis Ford Coppola Winery, Pinot Noir Votre Santé

2016, Pinot Noir, California, United States

Glass

Bottle $41.00

Francis Ford Coppola Winery, Director's Cut Pinot Noir Black Box

2017, Pinot Noir, California, United States

Glass

Bottle $47.00

Josh Cellars, Legacy Red Blend

2016, Merlot, California, United States

Glass

Bottle $36.00

Rosenblum Cellars, Zinfandel Vintner's Cuvée

NV, Zinfandel, California, United States

Glass

Bottle $30.00

Finca El Origen, Malbec Valle de Uco

2017, Malbec, Mendoza, Argentina

Glass

Bottle $32.00

Jacob's Creek, Classic Shiraz

2017, Shiraz, South Eastern Australia, Australia

Glass

Bottle $30.00
Buffet Selection
(Minimum of 20 people)
Choice of One Salad

Garden Salad or Caesar Salad

Choice of Two Entrees

Chicken Marsala

Chicken Parmigiana

Chicken Francese

Chicken Gia

Chicken and Broccoli

Chicken Piccata

Balsamic Chicken

Boneless Ham

Oven Roasted Turkey w/Gravy

Sausage and Peppers

Baked Scrod

Scrod Francese

Stuffed Sole Meatballs

Meatballs and Peppers

Eggplant Parmigiana

Stuffed Eggplant

Veal Parmigiana

Veal Marsala

Veal Saltimbocca

Veal Piccata

Veal Steak Tips w/ Mushrooms, Onions & Peppers

Beef Tenderloin

Choice of One Pasta

Lasagna

Ravioli (Cheese or Meat)

Stuffed Shells

Gnocchi

Baked Rigatoni

Penne Marinara

Penne Bolognese

Penne with Pink Vodka Sauce

Cavati & Broccoli Aglio e Olio

Choice of Two Sides

Oven Roasted Potatoes

Mashed Potatoes

O'Brien Potatoes (home fries with onions)

Lyonnaise (Spanish onions and chicken stock)

Roasted Potatoes with Onions & Peppers

Broccoli Aglio-Olio

Green Beans Almondine

Zucchini and Squash Italiano

Mixed Vegetables

Baby Carrots with Dill Butter

Sautéed Cauliflower
Buffet above includes coffee or tea and homemade Focaccia bread with butter.
May we suggest a bottle of wine for your tables?
Prosecco Toast

Pitcher of Red or White Sangria

Bottomless Soda

Choice of One Dessert

Homemade Tiramisu

NY Style Cheesecake w/ Strawberries

Homemade Grapenut Custard

Five High Chocolate Cake

Dessert Trays

Brownie Tray (24 pieces)

Mini Pastries (24 pieces)

Mini Cannoli's (24 Pieces)
A La Carte Hors d'oeuvres
Assorted Cheese & Crackers w/Fresh Fruit

Assorted Fresh Cut Vegetable & Dip

(Platters of 50 pieces)

Stuffed Mushrooms

Bruschetta

Stuffed Artichoke Hearts

Clams Casino

Scallops and Bacon

Fresh Mozzarella Wraps

Mini Beef Wellingtons

Shrimp Cocktail (Market)

Fried Mozzarella

Toasted Ravioli

Calamari (Serves up to 25 people)
FOR YOUR
SPECIAL OCCASIONS
Birthday & Retirement Parties
Business Meetings
Bridal Showers
Baby Showers
Rehearsal Dinners
Anniversary Parties
Bereavement Meals
For Information or Reservations Please Call
Phone: 508-278-7500


THANK YOU

For inquiring about our banquet
and function facilities. Gia's food is all
cooked on our premises from scratch.
We would not offer anything but the
best for our patrons.
CAPACITY

20 - 120 People.
DEPOSIT

A non-refundable deposit is required
upon holding the date for your
function. This deposit will be credited
on your final bill.
Deposit Amounts:
29 people or less $100
30-49 people $150
50 people or more $200
All deposits are accepted by check or
cash only. No deposit can be put on a
debit or credit card.
PAYMENT*

*Pricing is based on the number of guests
confirmed seven days prior to event.
Due in full on day of event. Prices are
subject to 6.25% tax and 18% gratuity.
Final payments are accepted by cash,
check, Visa, MasterCard, Discover,
and American Express. No gratuity on
credit card or debit card is accepted.
Only cash or separate check, please.
Easter Buffet
$32.95 Per Person
Children 12 & Under $10.95
Served 12:00 - 3:00
Tortellini Egg Drop Soup

Ravioli

tomatoe / basil sauce

Penne Vodka

Eggplant Rolatini

Chicken Francese

Chicken Parm

Baked Ham

Stuffed Sole

Meatballs

Oven Roast Potatoes

Mixed Vegetable
$15 Xpress Lunch
With your choice of soup or salad
Eggplant Rolatini with Penne

Breaded eggplant stuffed with seasoned ricotta

Penne Vodka

Penne tossed in a pink vodka sauce

Chicken Parm with Penne

Chicken Parmigiano served with penne pasta

Chicken Marsala over Penne

Chicken sautéed in a Marsala sauce with mushrooms, served over penne

Chicken Francese over Penne

Chicken egg battered, served with a lemon butter sauce over penne

Chicken Gia over Penne

Chicken medallions, roasted peppers, artichoke, mushrooms, white wine demi

Baked Rigatoni

Rigatoni, mini meatballs, ricotta and mozzarella

Stuffed Pepper

Bell pepper stuffed with an Italian sausage stuffing, fontina cheese, marinara with penne

10 oz. Burger

Served with lettuce, tomato, cheese and French fries

Cheese Ravioli

Cheese ravioli, San Marzano tomato sauce and fresh basil

Sausage & Peppers

Panino with caramelized onions and French fries

Haddock Francese

Egg battered, lemon butter. Served with potato & vegetable
The Xpress Lunch menu is offered Tuesday - Friday, 11:30 - 3:00 pm.
Breakfast
Breakfast begins at 7:00am
The last reservation is taken at 11:30
Fresh Fruit

Scrambled Eggs

Ham/Sausage/Bacon

Home Fries

Pancakes/French Toast

Eggs Benedict

Coffee

Tea
Children under 12 - 1/2 Price
20% discount for seniors 65 or older
Zuppa É Insalate
Stracciatella alla Romana

Caesar Salad

Pasta é Fagioli

Garden Salad
Entrées
Pollo Ripieno

Chicken breast stuffed with our homemade Italian sausage and risotto stuffing, sautéed in a Madeira wine sauce with domestic mushrooms.

Pollo alla Gia

Boneless chicken medallions egg-battered and sautéed with roasted peppers, artichoke hearts and domestic mushrooms and topped with mozzarella cheese in a white wine sauce.

Misto di Pesce

Broiled haddock, jumbo shrimp and scallops topped with our seasoned breadcrumbs and garlic butter.

Pranzo Italiano

Assortment of Italian specialties, homemade meatballs, chicken parmesan, stuffed eggplant, sweet Italian sausage, toasted ravioli, and penne pasta.

Sogliola Ripieno

Fresh filet of sole filled with our shrimp & scallop stuffing, topped with a Newburg sauce.

Vitello Saltimbocca

Select veal scaloppini topped with prosciutto, sage, and mozzarella cheese, sautéed in a white wine demi-glace with domestic mushrooms.

Vitello Parmigiana

Tender select veal lightly breaded and served parmigiana style with penne pasta.

Linguine Pescatore

Shrimp, scallops, littlenecks and calamari rings sautéed in a light plum tomato sauce served over linguine.

Ravioli di Aragosta Cardinale

Jumbo lobster ravioli tossed in a plum tomato brandy pink sauce with fresh lobster meat.

Surf N Turf

Center cut Filet Mignon grilled to perfection served with 2 jumbo baked stuffed shrimp and topped with garlic butter.

Sirloin ala Mama

New York Strip Sirloin grilled to perfection topped with garlic butter, mushrooms and cherry peppers.
Dessert
Chocolate Mousse

Cheesecake with Strawberries

Cannoli
First Course
Arancini Di Riso

Arborio rice balls filled with Italian meats and fresh mozzarella, coated with panko breadcrumbs, pan-fried, and served with a San Marzano tomato sauce with basil. Garnished with grated Grana Padano

Ravioli Fritti

Cheese-filled ravioli coated with bread crumbs, pan-fried, and served with marinara sauce.

Calamari Alla Gia

Crispy calamari pan-sauteed in our roasted garlic butter and finished with a touch of lemon juice and banana peppers.

Stuffed Mushroom Caps

Mushroom caps stuffed with vegetable stuffing and garlic butter
Second Course
Caesar Salad

French Onion Soup

Garden Salad
Third Course
Vitello Parmigiano

Veal parmigiano served with penne pasta.

$49.00

Vitello Alla Saltibocca

Veal scallopini topped with prosciutto, sage, and mozzarella cheese, sautéed in a white wine demi-glace sauce with domestic mushrooms.

$50.00

Pollo Caprese

Chicken paillard topped with vine-ripened tomatoes, fresh mozzarella, and basil. Finished in a sherry wine sauce.

$45.00

Pollo Parmigiana

Boneless chicken breast breaded and served parmigiana style.

$45.00

Baked Stuffed Shrimp

Jumbo Shrimp Stuffed with a buttery ritz cracker seafood stuffing and garlic butter.

$49.00

Linguine Pescatore

Linguine pasta tossed with shrimp, scallops, calamari rings, little necks, and mussels, in a lite plum tomato sauce.

$55.00

Misto di Pesce

Broiled stuffed haddock, jumbo shrimp, and jumbo sea scallops topped with white wine, lemonjuice and garlic butter.

$49.00

Beef Wellington

Filet Mignon topped with a mushroom duxelles, wrapped with a puff pastry and served with a port wine reduction.

$65.00

New York Strip Alla Mama

New York Strip steak topped with garlic butter, banana peppers, and domestic mushrooms.

$58.00

Ravioli Di Aragosta Cardinale

Jumbo lobster ravioli tossed in a plum tomato brandy pink sauce with fresh lobster meat.

$50.00
Dessert
Chocolate Mousse

Homemade Cannoli

New York Style Cheesecake with Strawberries